In the late 1800's Greek Sponge divers arrived in Tarpon Springs to harvest the sponges in the Gulf of Mexico. Using rubberized suits and diving helmets, they made the sponge industry the community's most important source of revenue.
At the turn of the 20th century, over 500 divers were collecting sponges.  The area around the docks became a home for restaurants and shops to serve the divers and their families.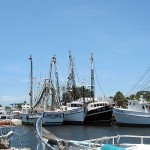 Today, the sponge industry is still thriving and Tarpon Springs' divers harvest some of the best sponges in the world. The sponge dock area now not only serves the divers, but tourists as well. Visitors have a chance to learn the history of the sponge industry and to enjoy a meal at one of the many Greek restaurants nearby.Shops offer all types of sponges, sea related gifts and art, clothes and the typical souvenirs and trinkets.
You can take a boat tour that explains the process of diving for sponges, comp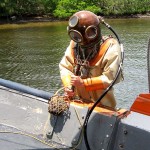 lete with a young man dressed in a dive suit and helmet. He then goes overboard to bring up a sponge. It was a fun and educational hour or so.
Expect to spend several hours browsing the stores, touring the museum and enjoying a meal. Make sure to save room for a piece of baklava at the local Greek bakery.
Tarpon Springs is north of Tampa. A website for the Sponge Docks is here.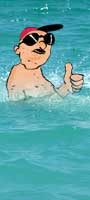 FOG Sez:
I don't see any sponges yet.