Last weekend, we visited one of the many street festivals that are held in Florida. Lots of vendors trying to sell photos, art, sculpture, trinkets, and anything else you could think of.
One of the booths was selling orchid and bromeliad plants.They had quite a large selection of plants, but no price was listed anywhere in booth.
Mrs. Fog has quite a collection of orchids, last count almost 50 of them. As with any avid gardener, she is always on the look out for an addition to her collection. Manning the booth was a young man, busy looking at his smart phone. Notice I said a smart phone, not a smart businessman. When asked the price of a particular plant, he glanced up and told us it was $12.00, then his eyes went immediately back to the phone.
Now, getting a new orchid, in bloom, for only $12.00 rates up there with the best deals around. In fact, we probably would have bought a few at that price had the fellow shown us any attention at all. Instead, we walked away from his booth without purchasing a thing.
He was not the only vendor we noticed paying more attention to the phone than to the people browsing the booths. I wonder how many of them went away from the festival thinking that sales were not very good. Perhaps sales would improve if the cell phones were left in the pocket or purse and more attention was paid to the potential customers.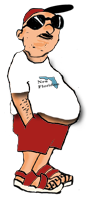 FOG sez: Sure, you may say this is just the ramblings of an old guy, but hey, that's what I do.