Most of us have heard the old adage about real estate: "location is everything". For those who are thinking about moving to Florida, we offer another consideration.  Which direction do you want your new home to face?
Living in the Sunshine State means that you will have lots of sun, on a regular basis, streaming into your home. Choosing a home built to maximize the natural light, while still giving you the needed shade can be a big issue.
What is the perfect orientation for your Florida home? The answer may be different from one person to another.
The front of our home faces south and it does get a lot of direct sun every day. Our cherry wood dining room furniture has shown the effects of this sunshine since we have lived here. The chairs that are in the sun most of the time have faded, as have the side of the china closet closest to the windows.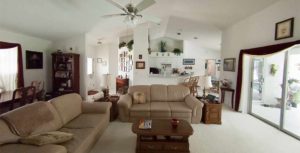 Many homes in Florida use the open concept style; no walls between living, dining and kitchen. This style allows light to flow through the entire living area. Large sliding glass doors often are used as an exit to the lanai and pool.
Keeping this in mind, you must decide what is most important to you. Do you desire a direct view of our beautiful Florida sunsets? If so choose a home with a west facing lanai. That sounds great until you realize that a west facing lanai gets the hot afternoon sun every day.
We paid a visit to friends home whose lanai faced west. They needed to keep sunglasses on hand for guests because the sun was so bright. Needless to say, it was also hot in the summer. I don't think they used their lanai very often.
We were lucky when we found our house. To be honest, we never gave the direction the house faced any thought. We walked in to the house and fell in love with it. An hour later we offered the sellers the asking price and it was ours.
It was only after we moved in that we realized how perfect it is. Our lanai faces north. That means we do not get direct sun coming into the covered part of it. We can have our morning coffee, our lunch and even dinner outside and not have the sun blazing in on us. Yet, the pool is in the sun for a large part of the day. It is perfect for us.
Are there any disadvantages to having a north-south facing home? I think it is all a personal preference. We love our home's orientation. You may want something different when you move to Florida.
If you prefer to wake up each morning to sunshine streaming into your room, you may want to choose a home with a master bedroom that faces east. If you are set on seeing the sun go down every evening, go for a home that maximizes that view. You may even have to compromise on one thing or another to find your dream home in Paradise