Yep, you read it right; just four things needed to make mouth watering grilled chicken.
Everything seems to have a story and this recipe is no exception.
It all started in the mid 1980's along Route 30, near Ligonier, PA. Our little family was driving by and noticed a roadside stand grilling chicken.
I pulled the car into the lot to buy some of the BBQ birds to take home. There was no building or even a little stand to take your order and money, just two guys sweating over a cinder block fire pit. I don't think these fellows really wanted to be there; they had a terrible attitude.
The chickens were not finished cooking. When I asked how long it would be, one guy says, "When they're done, they're done" and turned away. Now I have never been a very patient person and when someone who expects me to spend money with them treats me less than tolerable, I will not give them a dime.
So, I walk back to the car to face a wife and two hungry boys who were counting on barbeque chicken for dinner. No problem, I told them, I will grill up some chicken at home.
We had some chicken breasts in the freezer, and not much in the way of barbeque sauce. The chicken went into the microwave to thaw and we started working on a basting sauce.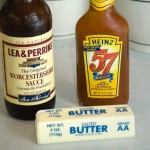 After some thought, and some urging by the hungry boys, we decided to try equal parts of Worcester Sauce, Heinz 57 Steak Sauce and butter. We melted the butter and added the other two ingredients. By that time, the chicken was not only thawed but partially cooked.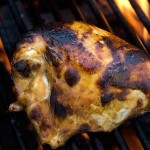 I put the chicken on the hot grill and started basting. Flipped those over and basted that side as well. One more flip and more basting, they were cooked through and we served them up.  Honestly, they were fantastic. We have been making BBQ chicken the same way ever since.
Here is the recipe:
Two large chicken breasts on the bone with the skin intact
Two tablespoons Worcester Sauce
Two tablespoons Heinz 57 Steak Sauce
Two tablespoons melted butter
Directions:
Put the chicken in a glass dish, cook in the microwave oven for 10 minutes on high.
Melt the butter and two sauces together.
Put the chicken on a hot grill bone side down and baste the skin with the sauce.
Grill for about 5 minutes, turn the breast over and baste the bone side.
Grill for an additional 5 minutes or so.
Flip again for one more basting.
Check the temperature of the chicken with a good meat thermometer; they are done
when they reach 170 degrees.
If you have any sauce left, baste them one more time before serving.
Some notes.
I know this is not the healthiest way to serve chicken. You can substitute margarine for the butter if you like. The skin keeps the meat very moist and can be removed before eating. However, it is very tasty.
Over the years we have served this chicken many, many times, to both family and friends. It has always gotten rave reviews. The highest compliment was when our teenaged grandson requested that I make it when he was visiting.
Feel free to add whatever you like to the sauce, hot pepper, honey, brown sugar or anything else you may want. For us we are sticking to the three ingredients we have loved for years.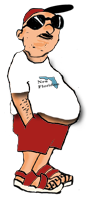 FOG sez:
Healthy meals? Do I look like I eat healthy meals?
I want my tombstone to read: "He Ate Well".