In the heat of the summer months, we usually visit the beach in the early morning or late evening hours. In the morning, the temperature is cooler, there is less humidity and the sun is not as strong. In the evening, the sea breeze usually picks up and with the sun lower in the horizon, the temperatures are more tolerable. The parking lot for our favorite beach is virtually beside the beach. We leave our flip-flops in the car and walk down the path to the beach.
Not long after we moved here, the grand-kids visited and wanted to spend all day at the beach. As new Floridians, we never gave a thought about how hot the sand would get in the mid-day sun. We arrived early in the morning, parked and walked to the beach barefooted; the flip-flops stayed in the car.
Wrong thing to do!
We packed sandwiches and soft drinks, toys, umbrella and beach chairs, everything you need for a beach excursion. We settled in on a patch of sand right at the water level. The warm waters of the Gulf of Mexico were washing over our feet as we relaxed in the beach chairs.
Kids seem to have an unlimited supply of energy and played in the water and sand for hours. Early in the afternoon, the sun got really hot. After all, it is July in Florida. The cold drinks were gone, and even the kids were getting tired of the heat. We decided to pack it in and go get an ice cream cone.
The toys were gathered up, the umbrella closed, the chairs folded and we started for the parking lot. Whoa! That summer sun made the sand really hot! Honestly, the sand was so hot we didn't want the kids to burn their feet as they walked over it. My son grabbed one boy and I the other, Grandma carried most of the beach equipment, and we started for the parking lot.
The sand was so hot we had to stop in the shade of a palm tree to cool our feet. The mad dash to the car was very painful but we made it safe and sound. However, we did burn the bottoms of our feet. Th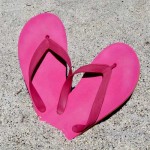 e burns were not terrible, more like moderate sunburn, but our feet were burned and uncomfortable for a few days.
Don't make the same mistake; always take your flip-flops or other footwear to the beach with you.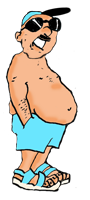 Fog sez:
I take care of my feet; they have to support more weight than the average guy.