More often than we knew, one or more bobcats travel through our little piece of Florida.  Bobcats are supposed to be nocturnal, hunting mainly at night. Somebody forgot to mention that to the ones who pass by our yard, at all hours of the day and night.
Over the last twelve years of living in Florida, we have seen bobcats on many occasions. Sometimes, we would go a month or two between sightings. Then, we may see one several times in one week. The cats are silent as they pass by; unless we are looking directly at them, they could go by completely unnoticed. Many times, we wondered just how many of these animals passed by and we never saw them.
This year, we installed a motion activated camera where our backyard meets the woods. We were surprised to see photos of bobcats walking by, almost every other day. They go by, day and night. The camera will take movies or still photos. We really enjoy the results.
We really don't live out in the wilderness; our home is in a community of about 350 others. The backyards of the homes on our side of the street face a wooded wetland that is quite large. Bobcats and many other animals come and go with seemingly no concern about us. After all, they were here first. The wild cats are not aggressive toward us. I have walked up on one that was only about 10 feet away; he just looked at me and slowly walked into the woods.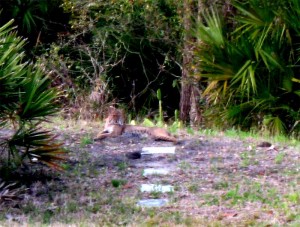 On one evening, we saw one lounging in the dirt watching us having a drink in our lanai. We joked that he was thinking about those poor people caged in that room, at least they have a giant water dish (the pool).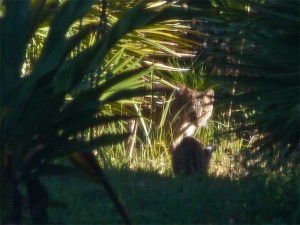 A mother bobcat brought a youngster into the yard and let it play for about 20 minutes. The baby would run and jump on the mother's face, swat at mom and just have a good old time. We had so much fun watching, we almost forgot to take photographs.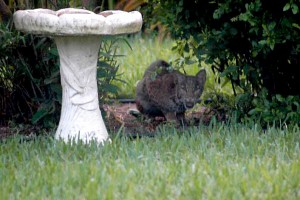 This photo was made very early one morning. I saw the bobcat around the birdbath, grabbed a camera and took a photo. I was not quite awake, I guess, because I didn't check the camera settings, just started shooting.
The light was low and the camera flash fired. The bobcat was not happy. He growled at me. I set the camera to disable the flash and was able to get this, not so perfect, image. I still like it because it shows the cat in an aggressive pose.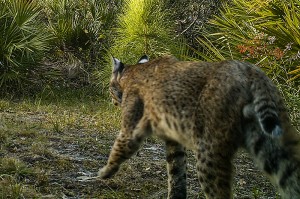 A photo from our trail camera as a bobcat walked by. Notice how the back of the cats ears are white; nature's way of a bit of camouflage. Other animals are not sure if the bobcat is coming or going.

Unfortunately, bobcats are not easy to photograph. They show up on no set schedule, usually when we least expect it and do not have a camera handy.  Most of the time, we have had to take photos through our pool screen or window. The resulting images are not as sharp as we would like.  No matter, we love the fact that these beautiful creatures visit. We hope you enjoy our not so perfect images of our backyard bobcats.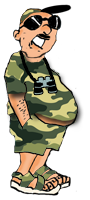 FOG sez: I also would growl, if some goofball started taking flash photos before my morning coffee!