Happy Independence Day everybody!
Time to celebrate our Nation's birthday.
For those who have been visiting this site, you know that most of our articles have a pretty light tone. FOG looks at life with a smile on his face. Today, let's get serious, just for a bit.
Before you fire up the grill, make the potato salad and all of the other holiday fixins, take just a moment to remember our young men and women in the armed forces, serving our country.  It doesn't matter what your politics are, or how you feel about the military, our service people deserve our respect and appreciation for all that they do. Let's all hope for a July 4th someday that celebrates peace.
Celebrate all you like, have a few adult beverages, even set off some fireworks (legally or not). Enjoy the Fourth any way you wish, but please don't drive after you have been drinking.
Plan ahead; make sure someone in your group is the designated driver. Make sure that person remains sober all day. If that is not possible, limit your own drinking and allow plenty of time, without any drinks, before you get behind the wheel.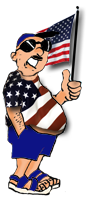 FOG sez:
I don't care how corny it may sound,
I am PROUD to be an American!