December 10, was "National hate Florida day". I'm not sure who decided to declare that sour sentiment about our sunny state, but I bet it was a non-Floridian who wished they were here. While the rest of the US was suffering from the cold, we were enjoying warm if not hot, sunny weather.
We are in the midst of record heat in Florida; the temps are daily approaching, or breaking historical highs. We do not control the weather, but this is why we moved here. Don't be upset with us; you have the same option.
Why ask? You know the answer.
It never fails, the first question we get when a Northerner calls on the phone is: What's the weather like down there? When we reply that it is sunny and warm, the moaning starts. What did they expect? This is the Sunshine State!
We moved here because we got tired of the cold, the snow, the freezing rain, all of those things our northern friends suffer through each winter.
Florida isn't perfect.
We have to mow grass all year round. The heat in the summer is pretty intense.  Some areas have a high crime rate; bad guys like the warm weather as well. Hurricanes are a yearly worry.
But…
Flowers grow all year long; the beach is no more than 80 miles away for any Florida resident; the sunsets are fantastic and except for the panhandle, we get no snow.
So please don't hate our paradise, there is still room, come on down.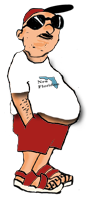 FOG sez: Lots of people have hated me, but not because I'm beautiful.