Do you want a home with a pool for your new residence in Florida? That was one of the most important items on our wish list when we were looking to buy a house.
Now, more than 10 years later, would we buy a home with a pool again?
The answer to that may depend on when you ask us. It gets frustrating treating the pool for mustard algae in the spring. And I really do not like looking at the solar blanket on the pool all winter.  That being said, the pool is so refreshing after a few hours of yard work on a hot day.  And nothing is better to relieve stress than a soak in the pool.
There are no two ways about it; a pool involves a bit of work and expense. Depending on the size of the pool, it costs between $40.00 and $100.00 or more per month in electricity to run the pump. The new variable speed pumps, now required by law, claim to offer savings of 50 to 70% over the old style. However, these pumps are more than twice the price of the conventional pumps.
You have the choice of hiring a service company to regularly clean the pool and maintain the chemistry, or do it yourself. We started out using a service. The cost was $70.00 per month. I really didn't see the value. The service person spent less than 10 minutes per week on our pool. So I decided to do it myself and have not regretted the decision.
The pool really proves its worth when the grandkids come to visit. Our pool is not large. It is about 13' x 25' and the maximum depth is about 5 ½ '.  It was the perfect size to teach the grandkids how to swim. Even now that they are in their teens, they still enjoy the pool.
Bottom line, we have never regretted purchasing a house with a pool. It is part of the Florida lifestyle.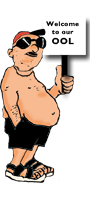 FOG sez:
You notice there is no "P" in it, let's keep it that way.