The true name of this plant is Schlumberger and it is native to Brazil. It really should be called Holiday Cactus, at least here in Florida, because it usually starts to bloom around Thanksgiving.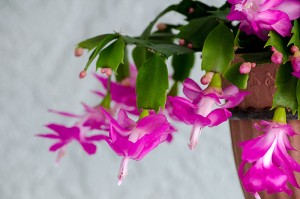 No matter what it is called, it is a really pretty flower. It only blooms from late November through early January. While it is in bloom, there are loads of flowers on it. The rest of the year it has a nice, soft, green leaves. It is very easy to take care of.
After a little research on the Internet, I learned that this cactus has been a popular houseplant for quite some time. Some of the sites I visited made it seem like it was more difficult to grow and bloom again, than what we have experienced. We really don't do much in the way of special care for it. We have ours hanging in a shady spot on the lanai; it does not tolerate strong sun. It only needs a bit of water every now and then and it doesn't seem to be bothered by any bugs. Ours has been blooming every year since we purchased it.
There are varieties of the Christmas cactus available in different colors, we like this bright pink one the best.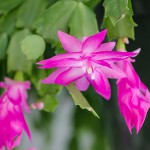 We look forward to the blooming of the plant each year; it signals the start of the Holiday Season.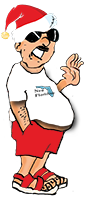 FOG sez:
I look forward to a glass of eggnog to start my Holiday Season, preferably with a bit of bourbon in the recipe.