Another hot day in Florida.
Often, people ask how Floridians tolerate the heat in the summer months. The answer is simple; we adjust our lifestyle the same way we did up north when the temps were freezing. We live in air conditioned homes, we travel in air conditioned vehicles and we shop in air conditioned stores. Substitute heated for air conditioned in the above sentence and you have life in the dead of winter, in Pennsylvania and other northern states.
When the thermometer climbs into the 90s or higher, we limit our outside activity to early morning or late evening. If we decide to do yard work during the day, we limit ourselves to just an hour or two. It is essential to keep drinking liquids even during a short time in the sun.
Your body will adjust to the heat; before long you will prefer a higher temperature in your home than you did in the north. We now set our air conditioning to 78 degrees for the summer. When our kids come to visit we turn it down to 76. We freeze and they think it's too warm. I have been told as we age, we will like it even warmer in the house. I'm sure the kids are going to love that.
We moved to Florida in July and it was HOT! So hot, that I thought Mrs. FOG was going to pass out from sunstroke one day as we crossed a parking lot. It took her a few weeks to get used to the heat. Now we work together in the heat of the day outside.
So, don't be afraid of the Florida heat, before you know it you will be lovin it.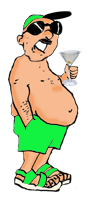 FOG sez:
With a cool adult beverage and a dip in the pool, its not so hot.