Venice Rookery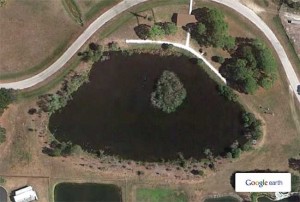 South of Venice Florida, is a very small rookery where hundreds of birds nest every year.
This little island measures about 100 feet by 75 feet at its widest points. As you can see in the photo, the pond it sits in is also very small. What is really great about this site, is how close you can get to the nests. The distance from the viewing area to the birds is about 50 feet.  It is a popular spot for bird enthusiasts, tourists and both amateur and professional photographers.
In the nesting season, there are a variety of birds using the island. Herons, Egrets, Ibis, Anhinga and others share space on this tiny spot of ground.
Here are some photos from our recent visit. Enjoy!
Great Blue Herons on nest
Showing off for the ladies